Sotheby's auction house in London was recently the venue for one of the most audacious stunts in art auction history. Amazingly, a Banksy artwork, 'Girl with Balloon', self-destructed moments after it was sold to an anonymous phone bidder.
Banksy's balloon girl was shredded by a mechanism hidden within its own frame in front of a stunned audience at this iconic auction house on the evening of Friday 5th October 2018.
The canvas wall art, which depicts a girl reaching out to a red heart-shaped balloon and is one of Banksy's most iconic images, was valued at approximately £300,000 but eventually sold for £1,042,000 ($1.4 million)!
Banksy celebrated the prank with a post on Instagram with the caption: "Going going gone". Alex Branczik, Sotheby's senior director and head of contemporary art, added, "It appears we just got Banksy-ed." He went on to describe the event as "instant art world folklore" and said it marked "the first time in auction history that a work of art automatically shredded itself after coming under the hammer." As the gavel went down to signal the end of the auction at 9pm, an alarm went off and the canvas began sliding downwards through the frame. It emerged at the bottom sliced into ribbons, prompting officials to rush in to take the artwork from the wall in a doomed bid to save it.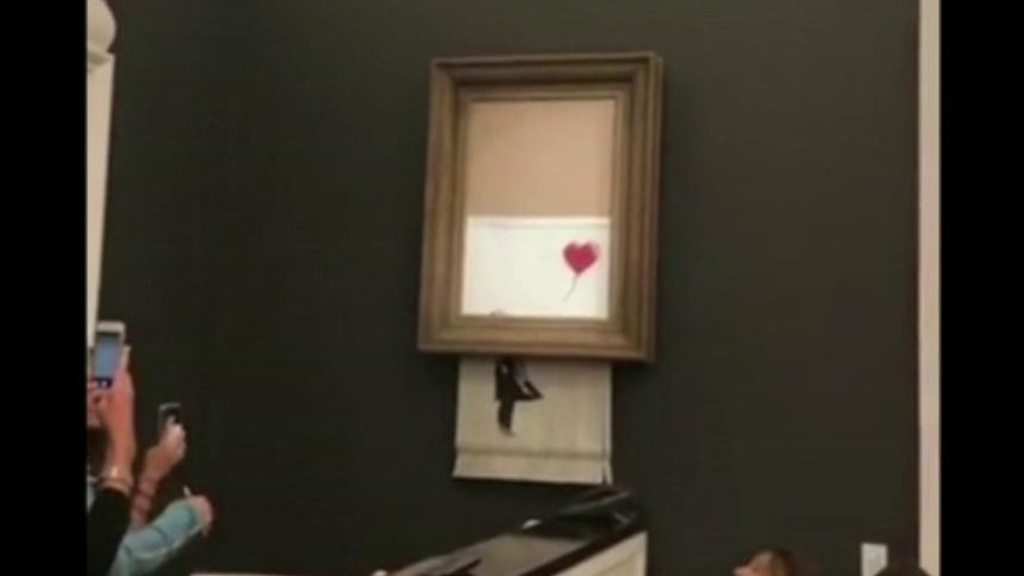 I suppose that Banksy's latest caper should not be surprising, he is always striving to amaze and bewilder. He first achieved notoriety with a series of graffiti pieces that appeared on buildings across the country and later became involved in a public battle with rival King Robbo, who died in 2014. Girl with Balloon first appeared on a wall on Great Eastern Street in London, in 2002 but the gallery version was created using spray paint and acrylic on canvas in 2006. Several other Banksy artworks have been destroyed or damaged in some way, normally by third parties who do not appreciate their significance. In 2012, Banksy's Parachuting Rat was accidentally ruined by an Australian builder while a series of murals in New York were defaced with graffiti by spiteful rivals.
If you don't have a spare £1 million to spend on a Banksy artwork, why not look at the wonderful, yet affordable, wall art at Brilliant Wall Art? Their expansive website catalogue of artwork is only one click away.
Brilliant Wall Art is the Midlands premier wall art and home accessory specialist. Based in Birmingham, Brilliant Wall Art have been providing decorative metal wall art and home accessories since 2006 with our primary goal being customer satisfaction. More recently expanding into garden accessories too.
Take a look at the excellent classic and contemporary canvas wall art on display.
This indoor world map explorer canvas wall art is a world map representation, stretched canvas over a wooden frame. It is a rustic colour tone finish and is easy to hang. It measures approximately 70cm (27.5") wide by 40cm (15.75") high.
Why not shop early for Christmas, visit a local event (NEC shows, NEC events 2018, National Pet Show 2018, Stratford Christmas Shopping Days), in November near you and examine the excellent range of goods that Brilliant Wall Art have for sale? Or you could purchase online and collect at our stall.
Please visit our market stall at one of these marvellous events:
1st - 4th November 2018 - Simply Christmas (Crafty Christmas Show) - Birmingham NEC Hall 19 - B40 1NT
3rd - 4th November 2018 - The National Pet Show - Birmingham NEC Hall 4 - B40 1NT
15th - 18th November 2018 - The Festive Gift Fair - Birmingham NEC Hall 5 - B40 1NT
23rd - 25th November 2018 - The Christmas Shopping Fayre - Westpoint, Exeter - EX5 1DJ
22nd and 29th November 2018 - Stratford Christmas Shopping Days - Bridge Street, Stratford Upon Avon - CV37 6AE
At Brilliant Wall Art, we already know that we offer great value for quality items and that we are cheaper than our competitors - Linda Barker, John Lewis, Mail Order Art, Next etc. However, to ensure that our customers can purchase wall art at the cheapest price possible, we have a brilliant 'Price Promise'.
Brilliant Wall Art offer all customers our 'Price Promise'…we are confident that we will not be beaten on price. If you see the same product advertised at a lower price including delivery and in stock we will endeavour to match the price and where possible beat it. Simply contact our team with details of the store or website that you have seen the product(s) at a cheaper price and let us do the rest.
We also guarantee that if you purchase any wall art from Brilliant Wall Art, it will NOT shred!
Please come and visit our market stalls in Birmingham, Exeter or Stratford-upon-Avon, during November…shop early for Christmas.
If you would like to know more about any of our collections across our Website, simply contact us today.
BRILLIANT WALL ART
Bring out the Artist in You…Your walls are Your Blank Canvas