A series of murals have been completed at Elizabeth Terminal (passenger and car ferry services) as part of its recent £350,000 refurbishment.
The graffiti wall artworks were painted by a local creative agency, 'Midnight' and depict the senses 'Feel', 'Taste', 'See' and 'Explore' with symbols associated with the island such as potatoes, cows, beaches and heritage. There is also a new 'Welcome' sign in the baggage reclaim area.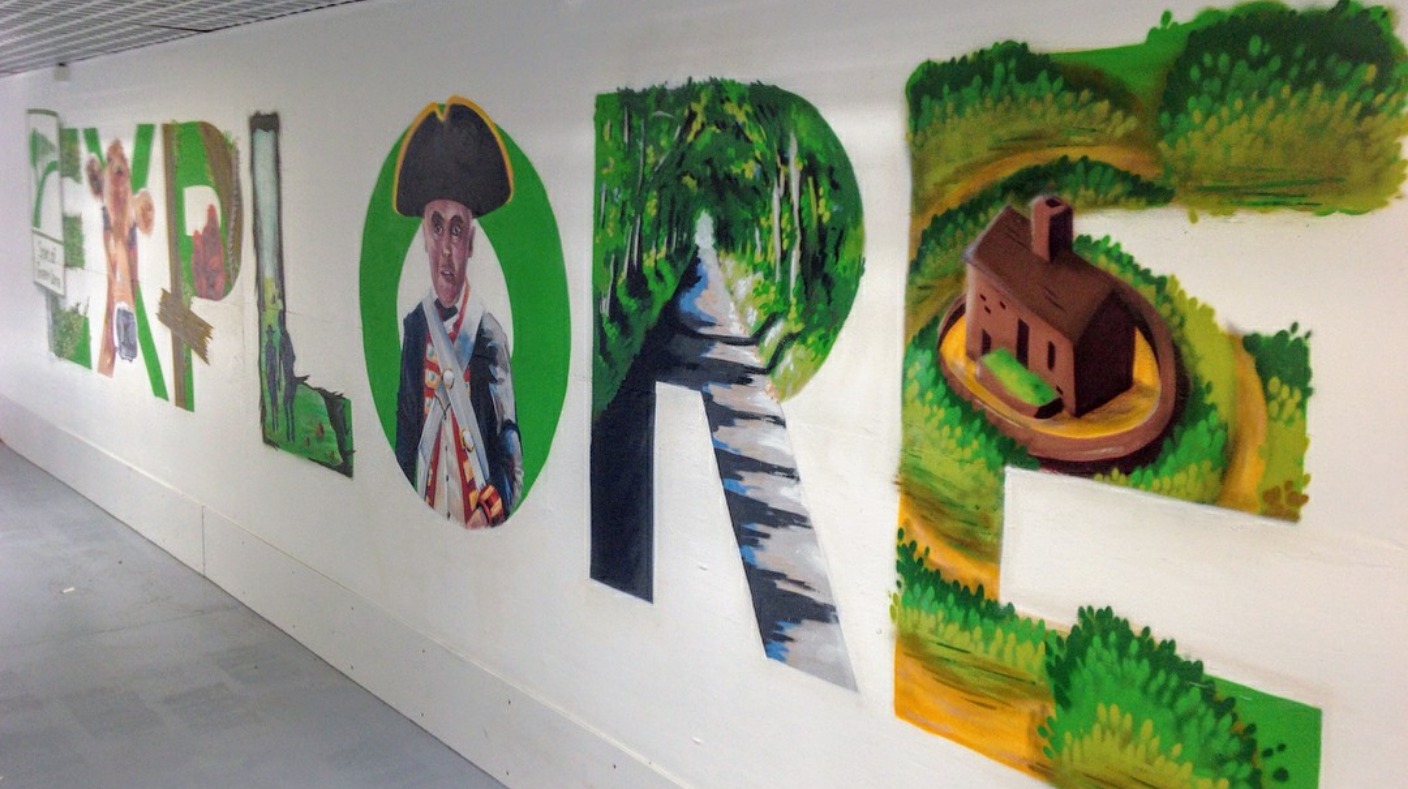 Graffiti wall art completes Elizabeth Terminal refurbishment
A series of murals have been completed at Elizabeth Terminal as part of its recent £350,000 refurbishment works. The graffiti-style artworks were painted by local creative agency, Midnight and depict the senses 'Feel', 'Taste', 'See' and 'Explore' with
The wall art paintings were the final touch of a refurbishment programme that was completed in August. Renovations include new flooring, ceilings and lighting in areas of the terminal building as well as reconfiguration of internal walls to improve the flow of departing passengers.
The Elizabeth Terminal operates year-round passenger and car ferry services at the 'Ports of Jersey'. They say that plans are also underway for a new restaurant and bar facility to open at Jersey Harbour in spring 2019.
The Jersey economy mainly relies upon financial services, tourism and hospitality. Earlier in my blog I mentioned potatoes, cows, beaches and heritage. Jersey Royal potatoes, Jersey Cows, their produce and the mild, sunny climate are renowned. However, there are fascinating other facts not commonly known about Jersey. Examples of these are:
Jersey is not part of the United Kingdom and has an international identity separate from that of the UK, but the UK is constitutionally responsible for the defence of Jersey. Although prices are sterling and traders do accept UK money, the island has its own Jersey notes and coins, including a pound note. These notes feature a security watermark of a Jersey cow and a smiling Queen Elizabeth.
Jersey has one of the largest tidal ranges in the world, and at low tide the island nearly doubles in size. The swirling tidal gyre turns the island from turquoise bays to rocky 'lunar' landscapes at low tide.
The island of Jersey is nine miles long by five miles wide, that's smaller than Greater London. Yet despite their small size, Jersey has one of the highest numbers of cars per person in the world and over 500 miles of roadway including our 15 mph Green Lanes. It means that wherever you are in the island, you're never more than ten minutes away from the sea.
---
Visit Jersey
Visit Jersey. The island break. An island shaped by the sea where some of the most astonishing tides in the world circle the coast and feed the land.
---
Jersey is quite a long way to go to look at wall art or buy a jersey for a Christmas gift. However, there is no need. More astute buyers can view high-quality wall art and Christmas gift ideas from the comfort and convenience of their own home, at Brilliant Wall Art.
Brilliant Wall Art will be attending and displaying their wall art and Christmas gifts, at a Christmas shopping fayre or Victorian market near you…York Christmas market, Worcester Christmas market, Stratford Christmas shopping etc.
If you want a Christmas gift for a cat lover then look no further than a Cat family glow dome. It is made from porcelain and finished in an unglazed matt white. The whole dome features the faces of friendly felines in an etched/moulded design. The design comes to life when the translucent porcelain is backlit with a tealight or alternative light source. It is a wonderful addition to any home and provides a tranquil and serene glow to any room. A tealight is simply placed on the plate and covered by the dome which has a hole to the top for ventilation. It is suitable for use with standard tealights or candles with a maximum height of 4cm (tealights/candles not included). Each set consists of a base plate and dome and comes in a display gift box.
My favourite piece of wall art is the Jewel peacock fan spray metal wall art. It is a colourful peacock bird design which has a hand-painted finish and features twinkling acrylic gem style detail. It is easy to hang and measures approximately 76cm (30") wide by 84cm (33") high.
Brilliant wall Art will also have an extensive range of metal wall art at our stall, for indoors or outdoors, our range is superb.
Please ring our friendly staff to check if your required item is in stock to view at our stalls at one of these brilliant fayres and markets:
29th - 2nd Dec 2018 - Worcester Victorian Christmas Fayre - Worcester City Centre WR1 2QQ
7th - 9th Dec 2018 - Stratford Upon Avon Victorian Christmas Fayre - Bridge Street, Stratford Upon Avon CV37 6AE
13th and 20th Dec 2018 - Stratford Christmas Shopping Days - Bridge Street, Stratford Upon Avon - CV37 6AE
10th - 23rd Dec 2018 - York Christmas Market - Parliament Street, York YO1 8SG
---
Visit one of the Brilliant Wall Art stalls…Karen and Simon will have great pleasure presenting BWA's superb gifts to you and your family.
Why not take advantage of our online multi-buy promotion? You could save up to £30 on your wall art.
Brilliant Wall Art promise to be the most competitive online service & therefore the cheapest.
For further information please contact one of our friendly and helpful members of staff …
Tel: 0121 453 1145
Email: sales@brilliantwallart.co.uk
Website: http://www.brilliantwallart.co.uk/Home.html
BRILLIANT WALL ART
Bring out the Artist in You…Your walls are Your Blank Canvas