The Metro (Associated Newspapers Ltd) reported earlier this year that a Birmingham resident, following building work, left a vintage postbox stuck in the middle of his driveway. The unnamed resident spent thousands of pounds widening the driveway to his home, having a set of gates installed next to an old, red pillar post box.
However, the work has made the distinctive 100-year-old postbox stick out like a sore thumb and attracted criticism from local residents. The free-standing postbox has been sited on newly-laid block paving at the corner of Oxford Road and School Road, Moseley, Birmingham.
Birmingham City Council local councillors have received complaints about the work and are investigating whether it meets planning regulations. The homeowner, who has declined to be named, has applied to Royal Mail to get the postbox relocated.
A Birmingham City Council spokesperson said:
"Alleged unauthorised works have recently been brought to our attention which are currently subject to an enforcement investigation … Discussions are taking place between council officers and the home owner in an attempt, to bring this matter to a satisfactory conclusion."
The Daily Mail also reported the story.
Local Moseley councillor, Cllr Kerry Jenkins claimed planning officers had been to visit the property about works outside the house, including the block paving … She said:
'The residents of Moseley are passionate about their neighbourhood. They love the characteristics, the vibe and do not want to see it ruined … I'm aware that planning enforcement are dealing with the issue.'
On the issue of the unnamed man applying for the post box to be moved, she said she was aware and added:
'I'm sure there's a huge cost to that.'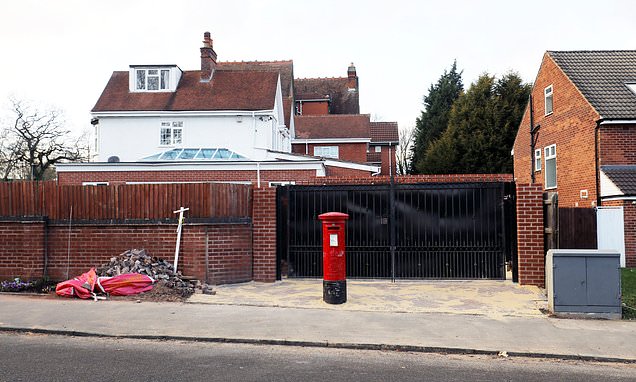 Are you planning to refurbish or re-design your front garden and driveway? Do you want to install a free-standing post box, a vintage post box, a replica royal mail post box or a wall-mounted post box at your house?
Look no further than the excellent range at Brilliant Wall Art; the Midlands premier wall art, home and garden accessory specialist. These iconic post boxes will embellish and stylise your outdoor areas. Some are simpler in design to suit more modern homes and some are more vintage or retro. The latter are ideal for Edwardian, Victorian or country cottage properties.
My top picks are:
This freestanding iconic red letter post box offers great value and is constructed from durable cast aluminium. The square base can be bolted down (with your fixings), featuring a lockable door to keep your mail safe. The letter slot will take post and letters up to A4 size.
This vintage style replica Royal Mail post box which is an iconic item throughout the UK is finished in black and features Post Office name and the Elizabeth Regina (ER) letters and crown detail all in a gold finish. It has a cast iron replica front fascia features a lockable door with an updated lock with two keys. The rear collection box is made from steel and comes with 4 pre-drilled mounting holes in the rear. The box can be wall mounted or easily built into a wall. This design is manufactured to represent a vintage piece so will show the odd chip, crack, mark, rub etc. The letter slot will take post and letters up to A4 size.
This vintage green grand pillar post box is constructed from durable cast aluminium; therefore, will not rust. The square base freestanding design can be fixed or bolted down and features lockable doors one to the front and one at the rear. The letter slot will take post and letters up to A4 size and comes with an internal shelf which can be used or removed.
---
Brilliant Wall Art are displaying their excellent wall art and other home furnishings and products at many events and festivals this year.
In June, BWA are proud to attend these great upcoming shows:
9th June - RAF Cosford Airshow, RAF Cosford, Wolverhampton, WV7 3EX
13th - 16th - June Summer Homes and Garden Fair, Ripley Castle near Harrogate, HG3 3EA
19th - 20th - June Lincolnshire Show, Lincolnshire Showground, LN2 2NA
Check out all our 2019 events.
---
If you have any questions about any of our products, please do not hesitate to contact us today.
WARNING:
It may be advisable not to block your drive when you choose the location for your post box.
BRILLIANT WALL ART
Bring out the Artist in You…Your walls are Your Blank Canvas!!!