When one thinks of famous wall art one thinks of Brilliant Wall Art, paintings, photographs, tapestries, murals, clocks, mirrors and even wallpaper. However, do you think of graffiti as wall art? Is it art at all? Today, many art lovers do…they love Banksy wall art.

The Street artist Banksy created a half-term surprise on the walls of a Bristol primary school as a reward for the school naming a building in honour of the artist. The elusive muralist composed the painting at Bridge Farm Primary school in his home town of Bristol.

The artwork was discovered by teachers as they returned from the half-term break along with a letter explaining "it's always easier to get forgiveness than permission".

Although Banksy rarely signs his work, a spokesman for him confirmed this morning it was indeed the elusive artist's work. Geoff Mason, Head Teacher at the school, said the school had received a letter from the artist himself. Mr Mason intends to preserve the mural and has "no plans to sell it". He said the surprise addition to the school's surroundings is "inspirational and aspirational" for his pupils.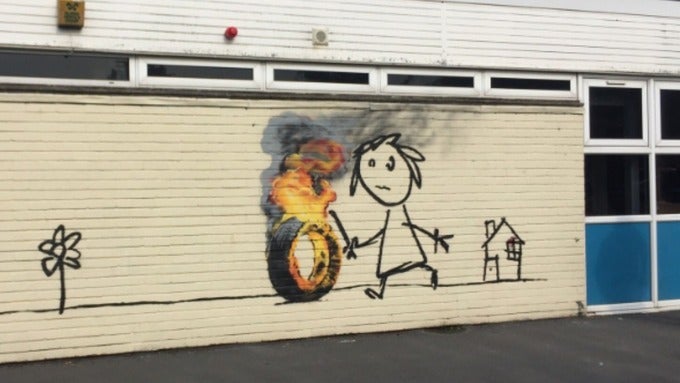 Banksy is a legendary graffiti artist. His work typically includes satirical social and political commentary and ranges from murals to sculpture and installation, often playing with the contextual aspects of the work. The artist's first solo show was held in 2002 at Los Angeles' 33 1/3 Gallery and in 2003 he was commissioned to design to cover of Blur's Think Tank.

Today, Banksy's work appears internationally. His most notable and controversial work is his painting of nine sardonic images on the Palestinian side of the West Bank barrier. In Summer 2009, Banksy took over the Bristol Museum and Art Gallery with an exhibition attracting over 300,000 visitors. His 'Dismaland' project in Weston Super Mare attracted tens of thousands of visitors and boosted the local economy by £20m. The prophetic street artist created a centerpiece fire-ravaged Disney-like castle with payday lender stalls and a remote controlled boat game which highlights the plight of immigrants.
Banksy wall art is always topical and on trend.
Brilliant Wall Art provides the best value metal, glass and canvas wall art across the UK, with numerous contemporary metal wall art designs for both home and office.

Take a look at the Brilliant Wall Art range.

BRILLIANT Product Range

BRILLIANT Monthly Offers

BRILLIANT Price Promise

BRILLIANT Next Day Delivery (90% of Orders)

BRILLIANT WALL ART

Brilliant Wall Art offer all customers our Price Promise as we are confident that we will not be beaten on price. If you see the same product advertised at a lower price including delivery and in stock we will endeavour to match the price & where possible beat it.

Simply contact our team with details of the store or Website that you have seen the product(s) at a cheaper price and let us do the rest.

Email: sales@brilliantwallart.co.uk

Tel: 0121 453 1145

BRILLIANT WALL ART

Bring out the Artist in You…Your walls are Your Blank Canvas